If you have questions about my services or would like to set up an appointment, please call or email me at eramirez@therapyvermont.com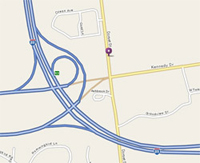 Click Here for a map to my office.




Directions to 595 Dorset Street

The 595 Dorset Office Complex is located at the corner of Dorset Street and 189, across Dorset Street from South Burlington High School and next door to the South Burlington Municipal Building and Fire Station. We share a parking lot and sign with the Municipal Building. If you are headed south on Dorset Street you will pass the University Mall on your right and then the South Burlington Fire Station. Our sign and driveway is immediately past the Fire Station, and you will turn right into that driveway and then take an immediate left towards the 595 Dorset Office Complex and parking lot (there is a directional sign there pointing to the left). The complex is a tan building on the corner with ample parking-you do not need to park in the Municipal Building lot. Dr. Ramirez is in Suite 2, right in front and next to the dentistís office. Please enter through the front door or side door and make yourself comfortable in the waiting area downstairs.